Trends in the contract attorney market – Part 1, An Overview
May 26th, 2009 | By
mrposse
| Category:
Contract Attorney Market: Trends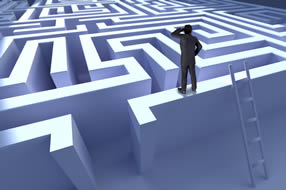 We spent the last 3 weeks in Chicago, D.C., LA and NYC.   We met with Posse List members, law firms, e-discovery companies and staffing agencies, as well as a few in-house corporate legal departments where we have contacts, plus a few Federal government contacts.
What follows are some brief observations on trends we see in the contract attorney market and e-discovery market based on our meetings.   Some of these trends we have reported in our recent coverage of LegalTech (click here), ABATech (click here), ILSLC (click here) and some previous Trends reports (click here).
Some of general observations below merit greater discussion and we will expand on them as follows:
Part 2— going solo or freelance, and publishing a blog (posted: click here)
Part 3 — how to raise your profile, "brand" yourself, market yourself, and get published (posted: click here)
Part 4 — a look at selected e-discovery and litigation support vendors and opportunities for contract attorneys, including software certification and speciality (we'll post this after ILTA09)
Part 5 — working in Europe (posted: click here)
Part 6 — the move toward and development of regulatory/compliance/risk management units in law firms and corporations and the opportunities for contract attorneys (this will be extensive and post in September)
Our general observations:
Foreign Language, FCPA and patents
1.  As we have reported, foreign language document reviews continue to dominate the U.S. contract attorney market especially in DC, LA and NYC.  This is due to the continuing increase in FCPA cases from firms such as Baker & McKenzie (they have 2 large cases now, with 2 more to come) and Kirkland & Ellis which have strong FCPA practices, as well as more FCPA work coming from Arnold & Porter which recently added a major FCPA partner.  This does not exclude other FCPA firms such as Sidley Austin, WilmerHale, Willkie Farr, etc. all of which have FCPA reviews going on. 
        Side note:  Kirkland & Ellis could have a lot more work coming across the board.   Two top partners at Skadden, Arps defected to Kirkland & Ellis.   One was David Fox, among the highest-paid lawyers at Skadden.  Skadden has had some hard times where revenue has fallen across nearly all practice areas.  Fox is a prominent mergers-and-acquisitions lawyer.   And Kirkland has a huge presence in the Persian Gulf which is generating FCPA and deal work.  Read: document reviews.
2.  As reported in today's Wall Street Journal (click here),  the DOJ is increasing its prosecutions under the FCPA .   At least 120 companies are under investigation according to Mark Mendelsohn, a deputy chief in the DOJ division overseeing the prosecutions.   Several law firms we spoke with said most of the document reviews will be centered in DC and NYC and almost all will have English language components and not be totally foreign language.
       Side note:  the FCPA — born in 1977 amid investigations into alleged contributions to Richard Nixon's re-election fund — now extends across five continents and penetrates entire industries, including energy and medical devices.  Among the companies currently under DOJ review are companies near and dear to the contract attorney market because of their long reviews: Sun Microsystems and Royal Dutch Shell.   Well, make that almost all of Big Oil.  There are a multitude of Big Oil reviews going on.
      The first big FCPA case that hit the radar for contract attorneys and document review (and reported in the above cited Wall Street Journal article) was in 2007 when the DOJ settled charges against Lucent Technologies for failing to properly record millions of dollars in travel to Disney World, Las Vegas and other sightseeing destinations for about 1,000 Chinese foreign officials who worked for state-controlled telecom companies. The company, which had characterized the trips as factory tours, admitted to the conduct and paid $2.5 million in fines.  But the Chinese kept the tee-shirts and Disney coffee mugs.
       And the biggest was the heavily reported Siemens case (click here)  which paid the largest foreign-bribery fine to date, and which said the cost of addressing its own corruption allegations was nearly as much as its total fine of €1.22 billion ($1.7 billion), including fines to the German government. The company is spending more money now on compliance programs and a government-mandated monitor.
3.  And this FCPA work has broadened out and led to the development of regulatory and compliance units in law firms, risk management units in corporations, led by early case assessment and total case assessment technology tools that have adopted regulatory and compliance capabilities that spot issues well before they become a problem.  The focus has moved away from law firms and to in-house law departments, affording a wide range of regulatory/compliance/risk management opportunities for contract attorneys.    And much of this is due to issues that were raised in a recent survey by the Association of Corporate Counsel, that many in-house counsel lack the tools/technology to manage key processes, or outside counsel handling those processes.   We'll cover this in more depth in Part 2, and Part 5.
4.  But the stream of foreign language document reviews is also due to a stream of international patent litigation coming to such firms as Finnegan Henderson, Gibson Dunn and Baker Botts.  And all the law firms we spoke with say this will continue.
5.  There is also a spate of pharma litigations (straight pharma litigation and FCPA pharma) in DC and NYC and Posse List members tell us that Ajilon, ClutchLegal, Excelerate Discovery, HireCounsel, Hudson Legal, and Kelly Law Registry already have parts or are all in the ring on the bids.
6.  And one significant trend we have previously posted about but emphasized by several law firms this past week: although staffing agencies still do the larger percentage of foreign language document review, e-discovery companies have aggressively moved into this market.  IT/litigation support teams at law firms we have visited continue to tell me (as they did in December when I made my rounds) that it makes much more sense to have the e-discovery companies also handle the "back end" — the review itself — since the evolution of the technology makes it a natural progression.   Why use two vendors when you can use one?  This has impacted the contract attorney job market as more and more e-discovery companies and vendors build out staffing relationships or staffing units such as and Catalyst.
Bankruptcy
7.  As far as bankruptcy, the onslaught of pre-packaged bankruptcies (for background click here and click here) has shortened the bankruptcy review times (as all of you on the Chrysler document review will attest).  But we have hope that General Motors will file Chapter 11 by June 1st because analysts say it will require an army of lawyers (for story click here).
Meantime there is still a large demand for per diem bankruptcy attorneys and contract attorneys with more of a demand in the Midwest, South and West.  These are the Posse List job listservs that have received the most posts.
Europe and Asia
8.  Which brings us (albeit indirectly) to Europe and Asia.  We have seen a large uptick in document review work in Europe, and also Asia.  This is due to a number of factors such as the FCPA (yet again) and patent work and law firm/client use of "blocking statutes" and the emergence of very sophisticated e-discovery companies such as European-based Outindex and Trilantic, and  Asian-based companies such as  CCH Workflow Solutions, all of whom are developing the capabilities of document review, and European-based staffing agencies such as Project Counsel.  We'll address contract work in Europe and Asia, and these companies, in Part 4.
      Side note: some of these trends we covered in our reporting from the International Litigation Support Leaders Conference two weeks ago (click here).
E-discovery and litigation support technology
9.  Dennis Kennedy recently posted a piece in the ABA's Law Practice Today (click here) which is his annual prediction for trends in legal technology and his advice for coping or responding to those trends.   Dennis is an information technology lawyer and a highly regarded legal technology author.  He writes the technology column for the ABA Journal and is the co-author, with Tom Mighell, of The Lawyer's Guide to Collaboration Tools and Technologies: Smart Ways to Work Together and he has a blog (click here) and a Twitter account (click here).   In the article Dennis sets out several trends including: 
       1.         Technology budgets get decimated
       2.         Making do with what you have or doing more with less
       3.         The mobile phone as platform
       4.         Looking to the cloud
       5.         Using tech to get the word out and the money in
       6.         Focus on client-focused technology
       7.         E-Discovery in still waters
His best recommendation for 2009 is one we have saying for months: read Richard Susskind's new book The End of Lawyers? and familiarize yourself with the two biggest influences on the legal profession Susskind mentions:  commoditization and information technology and the way they will disrupt and change the profession, faster than we expect.  For our posts on Susskind click here and click here.
We want to comment on Dennis' points #5 and #7.
       #5 is something we have been blogging about on The Posse Ranch (www.theposseranch.com).  Had you even heard of Twitter a year ago? Now you can't turn around without seeing something about using Twitter, Facebook, social media tools, blogs, podcasts and online video for marketing. You can put video up on Youtube, publish PowerPoint slides on Slideshare, create your profile and groups on LinkedIn, have a blog, create a podcast and do many, many more things to get your message out and create a brand. The financial cost of most of these tools is next to nothing. Think about how you and your potential clients get their information today. Create a channel to reach them that way.   On our Posse Ranch site you can find all types of help.  We will address this in full in Part 3 on Thursday.
        As regards his overall comment in point #7, we could not agree more:  no area of legal technology receives more attention than e-discovery.   We have written about the 3 trends he highlights:  the growing emphasis on cooperation and collaboration;  technologies and techniques to produce usable and workable datasets out of enormous amounts of data; an increasing amount of focus on high costs of EDD, with the parallel trend of treating some EDD procedures as commodities, with commodity types of pricing and off-shoring.
But we especially note his "trend you will want to take notice of is one that started a few years ago and has continued to grow".  It's the movement of the lawyers who know the most and who are the best at EDD out of law firms and into the employ of EDD service providers.  He calls this a "tectonic shift" in that the probable long-term result will be EDD service providers largely taking this work away from law firms and "EDD, perhaps, [will] no longer even [be] considered part of the ordinary practice of law, leaving litigation lawyers to redefine what they actually do as clients route around them to the EDD service providers who have all of the talent".
And it affects the contract attorney world.  Because one thing we heard over and over these last few weeks yields another, more direct trend affecting contract attorneys:  law firms and corporations have begun asking e-discovery companies and vertically integrated staffing agencies whether they can provide "enterprise wide" e-discovery solutions: managing and/or staffing projects for a law firm or corporation in any of its offices across the U.S. and/or across the globe.  Can they be "the one" vendor?  And part of this is due to a sub-trend: doing the doc reviews "local" in Europe and Asia because of blocking statute rules and data privacy.
But more importantly, going to e-discovery companies — the folks processing the data from the start — and asking "…and can you staff the review?"  For example, word on the street is that ePIC (an EDD) has picked up data processing contracts with a major mortgage lending company and telecommunications company. ePIC is close to landing a similar contract with a major energy company. All three contracts will involve document review work where ePIC would hire project managers and contract attorneys directly.  And that's just one example.
10.  And then there is computer forensics, an area of growth for contract attorneys with a tech bend.  Data recovery, computer forensics and e-discovery all deal with data, and specifically digital data. It's all about electrons in the form of zeroes and ones. And it's all about taking information that may be hard to find and presenting it in a readable fashion.   Yes, the skill sets require different tools, different specializations, and different ways of looking at things.   But there is an overlap.
Chris Jurkiewicz of Venio Systems recently conducted a poll titled "Do you see the E-discovery and Computer Forensic markets merging?" and of the 122 e-discovery respondents from around the world who responded, 72.1% said yes and 27.9% said no.
We "found" Venio Systems at LegalTech and it has electronic discovery software that allows forensic units, attorneys and litigation support teams to analyze data, provide an early case assessment, total case assessment and a first pass review of any size data set.  We have not interviewed them yet but we hope to include them in Part 5 of this report when we look at the tech companies and opportunities.
11.  To finish off this technology section, last week Ralph Losey did a post on his blog about the ethical problems of attorneys who don't know enough about e-discovery or, as Ralph put it  "abdicate the traditional role of lawyer as master of discovery" .  The result of this abdication has been a rise in e-discovery expenses, an increase in lengthy and unnecessary motions practice and a subsequent upturn in sanctions against law firms.  
He was interviewed (click here) by Browning Marean and Tom O'Conner, two leading lights in e-discovery world and discussed the failings of law schools and bar associations to provide certification or competency training in this field. 
We include it here because of all the law schools and bar associations who have susbcribed to The Posse List and also follow us on Twitter, and the new contract attorney members of The Posse List who had "some" e-discovery course work in law school and/or completed a certification course.
India … and China !!
12.  Law firms and legal process outsourcing to India still have a long way to go, and law firms still appear unconvinced.  Several recent studies and a recent survey US and UK based law firms (here, here and here)  reveal that less than 3% of law firms had any past experience of off-shoring legal services.    Although legal services outsourcing has garnered a lot of media attention, there still is a sizeable proportion of the legal community that has not considered outsourcing legal services to lower cost destinations.
      Side note:  offshoring of legal services to India began way back in 1995 when law firm Bickel & Brewer opened a captive facility in India.  Although Dow Chemical, Dupont, GE and other corporations set-up LPO operations in 2000 and 2001, the legal services outsourcing industry started to attract significant attention only around 2005.
In a matter of just a few years, the industry has grown to reach $225 million in revenues in 2008. However, this is only a very small portion (<4%) of the addressable market. According to the recent survey by ValueNotes there is a low perceived benefit of outsourcing legal services amongst law firms.   Most of the law firms are relatively new in terms of their off-shoring initiatives and have not integrated off-shoring in their overall strategy.  A large number of law firms, irrespective of their size, are apprehensive about sending their legal work to another country.  While this does result from lawyers not being convinced about the benefits of off-shoring, they also indicate concerns such as data security, client confidentiality and quality of work delivered.
Cost reduction (surprise!!) was rated as the primary driver for off-shoring legal services. Other significant drivers include increasing workload, time differences and competitors' decisions to offshore.  But while there seems to be some awareness about the benefits of offshoring, especially amongst those who offshore. for the majority the drivers do not seem to be strong enough.  Any benefits do not appear to be substantial to help over-ride their concerns.
Data security and quality of work delivered emerged as the key concerns for law firms. Given the confidential nature of legal documents, it is understandable that law firms have apprehensions on the security aspect.
No, off-shoring is not going away and the blended enterprise approach (first review in India, second review in the U.S. or UK)  and the overall cost reduction still is a driver for some. 
13.  China: a rising power in global outsourcing?  A new paper from KPMG (click here) takes a look at China's rising importance in global outsourcing.   Chinese vendors have progressed to specialize in niche areas such as: legal process outsourcing, animation and gaming, e-learning, offshore engineering and pharmaceutical R&D.
While many companies are showing greater appetite for outsourcing diversification, they still want the reassurance of dealing with companies with global perspective and experience, the paper says. This is where the Chinese government's so-called "1000-100-10" plan comes into play:  Launched in 2006 with funding in excess of US$1bn, the plan aimed to establish 10 Chinese cities as global outsourcing bases (subsequently increased to 20 cities in January 2009), to attract 100 international corporates to outsource to these locations and to develop 1000 Chinese outsourcing vendors to service this new client base.
It was an ambitious plan (ah, China) but the results can be seen with Dalian, Shanghai and Beijing already ranked in the top 10 most attractive cities for outsourcing. 
While the potential benefits of China as an outsourcing center are many — technical skills, language skills, depth of talent and pricing to name but a few — it is the increasing professionalism of the fledgling, 15 year old industry which is impressing many, the paper concludes.  
And China has employed a bit of a "twist" especially in the legal process outsourcing area:  many vendors offer thorough, months-long training programs in technical skills and customer service and substantive areas by stationing Chinese workers overseas for extended periods at customer or corporate locations to become more familiar with the client's business operations.    
Gregory P. Bufithis, Esq.   Founder and Chairman, The Posse List