U.S. labor laws and overtime: your comments
Aug 31st, 2015 | By
mrposse
| Category:
Uncategorized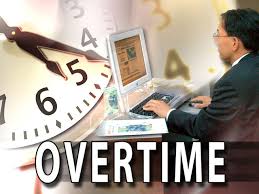 2 September 2015 – Over the weekend we published a notice about the Department of Labor's proposed a new rule regarding overtime and the opportunity to make comments.  We noted that United Contract Attorneys is submitting a comment to the rule proposing a carve-out for document review attorneys to the FLSA exemption to mandated overtime pay for professional workers, including lawyers.
Previously we have been reporting on the recent decision of Lola v. Skadden, Arps, Slate, Meagher, & Flom by the U.S. Court of Appeals for the Second Circuit (decided on July 23rd) containing prima facie statements that the work of document review performed was not the practice of law and that document review activity performed could have been accomplished by a machine.
On this page we will publish your comments/responses (without your name or email unless you want to include it). Send your comment to:  manager@theposselist.com.
We lead off with Vic Simon, a document review attorney based in Takoma Park, Maryland. He has done a deep think on these issues and he wanted us to share his thoughts with the Posse List community in order to generate discussion – and encourage contract attorneys to submit their own comments to the Labor Department. He disagrees strongly with United.
We then have added (and will continue to add) your comments as they come in.
—————————————
Some comments on contract attorney overtime by Vic Simon
Let me start out by saying I have priorities:
My first priority as a contract attorney is that I want to remain employed. I want there to be enough projects available in the market to keep working.
My second priority is pay rate, which has fallen substantially in the last 6 years, mainly because of supply/demand of contract attorneys.
My third priority is availability of overtime hours; it's crucial to my income that at least a fair number of jobs each year have OT hours, and such availability has fallen like pay rates.
My fourth priority is the basic terms of work — being a W-2 employee rather than a contractor filing a Schedule C, with much lower net pay and much more tax recordkeeping. We don't think of this day to day, but we must NOT take for granted that it would never happen. This would shoot to first or second on the list if it changed.
My fifth priority is that OT hours be paid at OT rates. I've worked OT hours both at OT and flat rates.
I am grateful to United Contract Attorneys for bringing to my and other contract attorneys' attention that there's an important federal rulemaking that could affect contract attorneys.
However, I could not disagree with United more that somehow it is in the interests of contract attorneys for the Labor Department, in final federal regulations, to add a mandate that can only reduce our work opportunities, cut our pay rates, officially degrade our work, and possibly result in major worsening of our terms of work.
United is putting my fifth priority first, urging a federal mandate that we must be paid overtime rates for OT work, and thereby jeopardizing all of the first four priorities. It is essential that the Labor Department know that not all contract attorneys favor their request.
I think the same way about the recent Lola v. Skadden, Arps decision. I disagree completely with the fawning bloggers that the decision, the plaintiff, and his lawyers are pursuing an agenda that favors the labor interests of contract attorneys. They're absolutely adverse to my interests.
You can click here to submit a comment to the Department of Labor. The rulemaking is the Obama Administration's effort to overhaul Fair Labor Standards Act rules, which have not been substantially revised in more than two decades. So, issues concerning contract attorneys are a microdot in the big picture. Your comment helps get the right handling of our issues within the vast maze of the overall American labor market.
Please note: comments are due this Friday, September 7th.
It is fine for you to file very short comments of 1-4 sentences without researching the matter yourself. The Labor Department receives thousands of comments, far too many to read the reasoning in any but a few.
I believe the two most important matters by far are:
First, your bottom line position — that you oppose a federal mandate on overtime pay rates for document review contract attorneys, or more technically, that you "oppose a document review exception to the lawyer exemption in FLSA rules."
Second, your personal interest in the matter: that you are a document review contract attorney, and perhaps your area or city, the typical practices or range of practices regarding OT pay rates in your area, typical pay rates and ranges, and finally perhaps the amounts of time you were working and out of work in the past year. That's what my comments will be. Frankly, if you want this federal mandate and are reading this, you can still follow the above directions.
Here's why I oppose contract attorneys being included in the overtime rule, and why I disagree with United Contract Attorneys:
It will reduce the number and length of projects on which we can work. This is for many reasons: (a) the greater expense when OT hours are paid at flat rates; (b) of greater importance, businesses, whether law firms or their clients, don't like federal mandates and will go to great lengths to avoid them; (c) of still greater importance, putting in a federal rule that our work is routine and unprofessional will lead our employers' clients to completely avoid using us.
Case in point: The vast majority of us have worked on project using predictive coding or technology-assisted review. We have seen what appears to many of us to be false positives running 50% to 98%. The U.S. Labor Department issuing a rule based on our work being routine and unprofessional will spike the incentive to vastly accelerate this kind of "innovation."
Yes, our work is often routine — and it is also often not routine. There are jobs that are only Responsive/Nonresponsive (which itself can involve fine points of analysis), and there are jobs that require 20 or more special category designations. There are special projects assisting with deposition preparation, etc. Nearly all projects over a few days in length involve significant changes in rating documents as the database is further explored and the matter develops, and involve staff meetings to discuss finer points. The vast majority of our work involves determining "first level" privilege along with relevance, a professional lawyer function. There is also QC of relevance and privilege, priv logs, etc. Special projects are sometimes paid at a higher rate, and sometimes not; this rule would have no effect on that. I really have to wonder why United failed to mention any of this in their Posse List posting, and also why the Second Circuit missed this.
We are not overworked! The vast majority of us want OT hours, and the very large majority, certainly of people I know, will work them at flat rate. The vast majority of us are disappointed that there are many fewer OT projects. When available, working OT hours are generally voluntary.
The comparison with other attorneys' pay, which United makes much of, is frankly NR! There also are many thousands of legal aid and solo/small practice attorneys who earn less than most of us.
There is a significant chance that such a federal rule would cause many us to become contractors rather than W-2 employees, as noted above.
Even at the low rates prevailing in many cities, $20-22 per hour, our pay levels are not those targeted by the Labor Department proposal.
Many of the OT hours that we work are paid at OT rates. Many are not. United should have noted this key point. Taking away that business option — which does cost us money, to be sure — does not begin to be worth the extraordinary fallout that this federal rule would have.
The professional status of our work is a matter of state law, including Bar rulings. If someone is going to slash our jobs, pay rates and terms of work, it should not be the U.S. Labor Department. In DC, contract attorney work is affected favorably by DC Bar committee rulings — which a federal rule like United wants could gut. Such a rule would be a direct threat to me.
——————————-
I fear that advocating for overtime pay will hurt attorneys in the long run and only serve to devalue the work lawyers do, and that is lawyering. The problem here is not the lack of overtime pay but the abysmal wages paid to attorneys who invest time, energy and money to become a practicing attorney. The issue needs to be addressed within the profession, which is unjustly capitalizing on the overflow of lawyers and trying to match or pay slightly above subpar agency rates or its utilization of agencies that take a portion of the fee.   While the very early stages of document review in some cases may simply involve weeding out irrelevant material, document review serves as a crucial and substantive function as it requires identifying material that supports or undermines claims. Moreover, many document review positions involve much more than just weeding out irrelevant documents and combine other functions that are necessary for success, yet the pay is still ridiculously low ($38.50 to $45 per hour).
—————————–
Take a look at Consumer Law Group (Chicago), who pays their Doc Reviewers $12/Hour and bills the client at $400/hour.
—————————
Thanks for the coverage on the ever growing group United Contract Attorneys. Most contract attorneys understandably choose to remain anonymous. It is a diverse group.
Additional coverage on the group's gathering on Saturday at the Left Forum can be found here, along with the collectively drafted position statement on the case:
https://bol.bna.com/contract-attorneys-gather-voice-frustrations/
The collectively drafted Bill of Rights and Demands is also available here:
http://www.unitedcontractattorneys.org/#!bill-of-rights-and-demands/c19wu
(For the record, I did not say that they tell us when bathroom breaks are taken, but rather that on some projects, we have to key in and key out during bathroom breaks, which are monitored as such. The paper print version did not include this incorrect paraphrasing, fortunately.)
————————
It is startling that there are not more comments on this post. Lawyers' working as document reviewers are treated worse than janitors. Document reviewers are employee's not independent contractors. Janitors are paid OT after 40 hours… professionally trained attorneys often times are not.
The law firms that sub out this work at 600% plus markup on hourly rates paid. I am not aware of any other craft or trade where this is legal. However, it is the accepted norm in the document reviewer world.
It will not change until reviewers demand change. The continued rate of new law school grads, desperate for a job, compounds the problem and ensures that this situation will only worsen. Farm workers have more solidarity than highly educated document reviewers. It is a shame.
————————
Document review attorneys deserve overtime pay since they are not securely compensated with a real salary, i.e., fixed pay on a regular basis, paid vacation or sick leave, insurance benefits, or even reliable, regular assignments.
————————
I appreciate the great comment by Mr. Vic Simon:
"However, I could not disagree with United more that somehow it is in the interests of contract attorneys for the Labor Department, in final federal regulations, to add a mandate that can only reduce our work opportunities, cut our pay rates, officially degrade our work, and possibly result in major worsening of our terms of work. "
If we really believe that document review could be done by machines, contract attorneys should and WILL be paid at the minimum wages. There is absolutely no reason to retain contract attorneys.
As to Lola v. Skadden, Arps decision, it should have been decided for estoppel. When contract attorneys are paid at $25 per hour, the work secured by that rate could be done by machines. That was because everyone expected to see "train wrecks". I am close to the point to prove "train wrecks" . If the whole industry does not mind that a train will be wrecked, anyone can run it and machines will make no difference.
I ask you to study the gasoline model in fixing gasoline price. You may see the other half story.
————————
I am a licensed Pennsylvania attorney and agree with Vic Simon regarding the issue of overtime for document reviewers. I have been engaged in document review, as well as special discovery projects since 2003.
If the Lola v. Skadden case is successful, there will be far fewer opportunities for document reviewers and, more importantly, it will result in additional attempts to advance predictive coding software platforms.
I strongly agree that predictive coding is an abysmal failure and has a high probability of error. Several law firms have abandoned predictive coding completely after massive errors in document production have occurred many of them resulting in the release of privileged documents with strategic case planning content to opposing counsel.
Am I mistaken or is "claw back" a joke particularly since most large law firms have software that "backs up" all electronic correspondence automatically? I strongly disagree that document review does not constitute the practice of law. Law firms who have staffed paralegals to conduct document reviews have had to have the documents recoded by attorneys on numerous occasions. We exercise the legal judgment of licensed professionals which should make us "exempt".
As Vic points out, there are a number of staff meetings during each review. Nuances of the production requests are constantly refined and during each of our reviews counsel of record is in court with motions that can alter the outcome of the case. Frequently the software is revised to add additional coding categories. Nonprofessionals cannot understand or appreciate these refinements.
Yes, at a minimum we should understand a great deal about the rules of evidence, the state and federal rules of court and eDiscovery best practices. And we also must have a high degree of computer proficiency to learn customized software platforms in a wink.
The fact that some document reviews get boring or monotonous and use electronic stored information unfortunately does not dictate the application of the FLSA.
Prior to starting document review I was in active legal practice with numerous courtroom appearances. Active legal practice can also be boring and tedious (e.g., the abestos litigation). Other attorneys share my legal experience and all of us bring this background into each document review. Many of us chose document review for its W-2 income and due to life style preferences.
I'm in agreement with Vic that our hourly wages have consistently decreased over the years. And that's disgusting. But recognize the fact that the decision to pay OT at time and one half versus straight time is largely left to the law firm client of the legal services agency. I have worked OT as straight time and as time and one half and also at premium OT (e.g., 2x regular) when the client has pressing case management demands imposed by the court.
Since Skadden is a second circuit case it most likely has a large component of New York attorneys. And this is important because New York definitely runs document review sweat shops. Second circuit attorneys have made some of the most onerous comments concerning the legal services agencies that it's a disgrace to the profession.
And comments on job review websites have made abundantly clear that New York attorneys are the most negative and unprofessional in their approach to document review largely because their agency is a disgrace that devalues its employees. This is why many local firms have gone direct hire.
To buttress their profit margin, the legal service agencies will push anyone in the group and keep them there as long as possible.
But direct hire poses the tax problems associated with independent contractor status and, believe me, this is to be avoided. Thus, I think it's quite clear that the labor law remedy needed is better oversight of the legal employment agencies by the individual state Bar Associations and I have written quite a lot on this subject to my Bar associations. In Pittsburgh, we call it Third Chair.
Discovery is clearly one of the most costly and strategically important phases of litigation. It enables counsel of record to strategically depose opposing parties, assess viable settlement options and timely prepare for trial.
What about that does not constitute the practice of law?
————————
I would like to respond to the rather lengthy comment that Mr. Simon so eloquently written about the Department of Labor's possible rule of contract attorney overtime carveouts. I'd like only to point out one glaring fact that was overlooked: the volume of projects would not diminish much. Law firms will still have an overwhelming number of documents that need analysis and coding. Predictive coding as already used would result in sanctions and oversight by law firms as word gets around of its inevitable errors and the ease of alleging sanction worthy inability to monitor, analyze and produce requested documents. The error rate of predictive coding is well-known in DC.
Bottom line answer: law firms will always need us and will either give us longer projects which won't be possible because of production deadlines or paid OT. They can go to no one else without hiring them fulltime so there's that also in our favor as not many of us want to do contract work fulltime.
In closing: we need to understand that we have more power than we let on. We can take projects that treat us with respect and dignity. This rule would result in better pay or permanent jobs opening up as firms hire doc review attorneys outright instead of through a middle staffing agency. Either way OT rules would be a God send for ALL of us.
————————
There appears to be an error in Vic Simon's article/comments on OT wages" In the Paragraph numbered 1 in the lower portion of his comment he writes ,"1. It will reduce the number and length of projects on which we can work. This is for many reasons: (a) the greater expense when OT hours are paid at flat rates . . . " I believe " flat rates" should read "OT Rates" as that is the greater expense.
————————
There is an underlying assumption that rates will not change if overtime is allowed. If a firm that does not pay overtime is forced to do so, they will just lower the rate. The net is the total dollars paid per hour will not change dramatically.
————————
I have submitted a comment to the DOL in opposition to a contract attorney carve-out to the FLSA. And honestly, I am disappointed that The Posse List seems to be in support of United Contract Attorneys. Overtime pay is not the answer, and United Contract Attorneys are not only short-sighted in their goals, but also just plain wrong.
The ramifications of what this would mean hasn't been explained at all – something that should be done at the very least, if not by United Contract Attorneys, then by The Posse List. I have pasted below my comment to the DOL. Up until last week, I was a contract attorney working document review projects in Chicago. I started a non-traditional legal job, but as you may be aware, jobs can be lost in the blink of an eye, and I may have to return to doc review.
I started doing doc review 10 years ago when hourly rates were at least $35/hr and time-and-a-half was expected for anything over 40 hours. A lot of projects wanted more than 40 hours, so I was doing pretty well. I saved up to put half down on a brand new car, and still put money in savings.
But once the recession hit, that all changed. Rates dropped to $30, then $29, all the way down to $25/hr. And there was no overtime pay. Many projects still wanted us to work more than 40 hours, but it was at straight time. Which wasn't so bad – I could still make ends meet as long as I worked consistently.
But work also started to slow down, and instead of projects that went on for 4 months or longer, I started getting staffed on 1-2 week gigs; and I would have 1-2 weeks of downtime, often only working half a month. That was a huge problem.
To illustrate, below I have listed my AGIs for 2007-2014: 2007=XXXXX; 2008=XXXXX; 2009=XXXXX; 2010=XXXXX; 2011=XXXXX; 2012=XXXXX; 2013=XXXXX; 2014=XXXXX
But bear in mind that I had no idea from one day to the next if I still had a job; and although I would apply for unemployment, the process isn't designed for temporary employees. If you worked one day out of a week, that could disqualify you for benefits.
And you had to wait 2 weeks or longer before you could even get paid; and you have your yearly "waiting week," where you just don't get paid for one week off just because the state says so. So, it isn't lack of overtime pay that is financially decimating contract attorneys – it is the low pay rates, short projects, lack of projects, and antiquated unemployment insurance rules.
Would I have liked to get overtime pay? Sure. Who wouldn't? But not if it is at the expense of saying what I have done for a decade isn't legal work. I spent too much money on my law degree, and too much time studying to pass the bar, for anyone to now say that what I have done for a decade isn't legal work.
Was a lot of the work routine? Yes. But a lot of work that almost everyone does is routine, including attorneys employed as associates at the big law firms I did do review for. In fact, before contract attorneys came along, first and second year associates did doc review.
Was I practicing law? Yes. Even when I just had to mark whether a document was Responsive or Not Responsive. And especially when I reviewed for privilege, created privilege logs, summarized documents, created witness kits, and helped with deposition prep.
Which means almost every click of my mouse involved me performing legal work, because that click isn't the end; many other things can happen to that document, and it all revolves around how I tagged it. It can be used for witness prep, or in a brief some associate is working on – I may not be aware of it, but my decisions affect the work of any other attorney working on the case.
If you decide that what the thousands of contract attorneys do isn't legal work, just so a few can get their wish for overtime pay, you are then negating the hard work and money spent on getting their law degrees. Reciprocity will then be denied – when so few states even have it – making moving for better employment opportunities next to impossible, when it is already hard enough.
And you are basically opening up document review to anyone; law firms won't need to hire attorneys since it isn't legal work, and they can pay those people less. Win-win for them.
And now all those contract attorneys who were barely making ends meet won't have any jobs at all. What would help contract attorneys? Higher pay rates. Better work environments. Knowing that if a project is supposed to be 1-2 months, that it will go for 1-2 months. Having insurance that isn't dependent on employment – once your project ends, so does your insurance. Help paying off my law school loans before I reach retirement age. Changing unemployment insurance to fit the needs of today's workers, too many of whom work at temp and seasonal jobs.
Having a union represent our interests might help with most of these things. Overtime pay won't. I implore you – please do not codify a rule carving out a contract worker exemption to the FLSA. Please do not mandate overtime pay for contract attorneys.
United Contract Attorneys do not speak for all of us, and are short-sighted in their goals.
————————
Contract attorneys should be paid overtime for a number of reasons:
1) It is fair, socially and economically. Contract attorneys are not paid a salary. Non-salaried workers are the very workers for which the FLSA was enacted. We deserve to be paid a premium for working hard over long hours to meet deadlines for which we receive no accolades nor ducats in our pockets, no future consideration in promotions, assignments, or perks – we're perk-less. A little overtime under those circumstances is welcome and earned,
2) Paying overtime will not kill this profession. It may bring a little bit more respect to our ranks, but these are projects that need be done, and predictive coding will never replace a trained human brain. So, paying overtime will not measurably change the calculus of contract work,
3) Many workers earning the same or more money per hour as contract attorneys are paid overtime. Their employers don't try to skate on bogus exceptions and trickery to avoid paying overtime. They pay it because it is merited and it is the law, and
4) If you want a firm or other entity to hire you for $30 and charge $245, which isn't the highest markup I've seen in this business, then you are either crazy or a masochist.
I know the advocate against overtime probably thinks it is neat going against the tide and making an argument for a losing position, but it's still a loser.
The evolution of the practice of law nearly mandates that contract attorneys be exempt from the exemptions and that we be paid overtime under the FLSA. Good luck to all my contract attorney brothers and sisters in achieving this milestone legislation/rule change.
————————
I agree, I do not want to contribute to the further degradation of the legal profession. I like many of my colloquies are making the best of the current legal market changes. I prefer to offer my experience and skills at what the market will bare rather the see my legal services become another commodity. Every lawyer should decide for themselves what their services are worth in todays market. Nor would I want to see any type of collective bargaining, which would be the next step in the commoditization of legal services.
————————
"well, if we are forced to pay OT in certain circumstances, then we'll need to be cost effective.  We'll run the numbers per project.  If it makes more sense to use 50 attorneys at 40 hours per hour rather than 30 attorneys plus OT, that's what we'll do."
And if there were the same number of law grads as 5 years ago, they could do that. The glut is receding and if 40 hours was the max, large projects wouldn't find enough reviewers without increasing the base.
So end result is same pay, less work. I'm ok with that.
————————
Read with great interest the UCA labor issues. have done 4 yrs of doc review and agree that industry(including agency treatment of candidates) needs reform. Vic Simons view is narrow and seeks to maintain the status quo on economic /condition issues (agree on his job description analysis) I prefer straight hours better pay ,which is available given the example of the $245/charge..something.
I have also seen and heard in NJ/NY and Ohio all places I have worked. With this I do want to maintain W2 status and ease and better working conditions, rates,guarantees (like a 8 week job is 8 weeks not 4 or a days work is 8 hours not 4 if they are low on work,plus proper notice of the end of a project with a walking away bonus if done well etc).Benefits are next. The economic argument of less work if OT is guaranteed is the same as minimum wage argument for workers so Mcdonalds will make due with less hours if forced to pay $15/hr.
True on the short term perhaps. but as they say no pain no gain, without conflict no progress…projects should be honestly/realistically staffed..a working condition issue in itself. OT should not be regularly neccessary as there are enough attorneys to do the work..regular hours, better pay and conditions =better work life balance.
Ironically, the firm analysis equation stating "50 attorneys no OT is more efficient than 30 with OT" is true and if they applied that logic to their actual full time regular staffing there would be more employed attorneys, in house reviews, and less stressed overworked attorneys able to enjoy the fruits of their labor and educational efforts! Making much of this argument moot!
————————
I am against mandated overtime. I have been with a document review firm that has used the 2 following models, one succeeding the other.
Model 1: Flat rate = $30 Max Hours = 50 Max Weekly Earnings: $1500
Model 2: Flat rate: $25 Overtime rate (after 40): $37.5 Max Hours: 50 Max Weekly Earnings: (40x$25) + (10x$37.5)= $1375
As you can tell, even though reviewers are happy at the thought of "overtime," they are actually being shortchanged. Many reviewers fall under the false pretenses of working more hours, with overtime equals more money…but as you can see, it is the complete opposite.
————————
As we all know document review had been around for years. Electronic document however had created a much greater market for contract attorneys. I think a critical question is being ignored and that is whether overtime pay is the responsibility of the staffing agency or law firm. Most of my experience has been in QC and redactions but if I was managing a project 12 hours a day I would definitely want OT. In my experience some larger law firms are using staffing agencies to conduct document review projects for small firms. In those projects OT was offered although it was not advertised.
————————
This guy, Vic Simon, actually took the time to think this through.   The bottom line is that if our work is determined to be not the practice of law, why would they need attorneys to do doc review.
Lola and the contract attorneys' union are brilliant: Let's win the battle for OT and then we will all be out of work.  No other profession that I know of strive to devalue their work; on the contrary, every other profession attempt to elevate their status so that they are more respected and marketable.
Lola is a selfish whiner, and the union is short-sighted.
————————
I do not buy the employer replies. I began doing document review in the early 2000s. OT was the norm and the rates were higher than they are now. The doc review industry isnt going anywhere. Getting enployees on a whim without having to pay health insurance, vacation, or any other expense you would incur with a full time employee is a huge savings. There should be a premium paid for getting people to commit to a short term job that could end at any time. I live in NYC now. DC pays OT and their general hourly rates are higher bc there are less attorneys. The $ is there. But the ones getting squeezed out are the ones doing the actual work.
What we need is a union! The current rates keep going down.
————————
I fear that advocating for overtime pay will hurt attorneys in the long run and only serve to devalue the work lawyers do, and that is lawyering.
The problem here is not the lack of overtime pay but the abysmal wages paid to attorneys who invest time, energy and money to become a practicing attorney. The issue needs to be addressed within the profession, which is unjustly capitalizing on the overflow of lawyers and trying to match or pay slightly above subpar agency rates or its utilization of agencies that take a portion of the fee.
While the very early stages of document review in some cases may simply involve weeding out irrelevant material, document review serves as a crucial and substantive function as it requires identifying material that supports or undermines claims. Moreover, many document review positions involve much more than just weeding out irrelevant documents and combine other functions that are necessary for success, yet the pay is still ridiculously low ($38.50 to $45 per hour).
————————
This has GOT to be the most ignorant, trickle-down theory post I have ever read in my life! Why would ANYONE in their right mind ELECT/PREFER to remain a W-2 employee as opposed to becoming a contractor who can file a Schedule C on their federal taxes??? Mr. Simon's answer is that it creates more recordkeeping "work" for the individual employee.
Mr. Simon obviously knows nothing about tax law, nor does he appreciate the thousands of dollars that can be shaved off one's taxes as a contractor with the ability to file as a Schedule C taxpayer!
————————
The FLSA exemption is not the problem here.  The issue is market forces, namely supply and demand: There are just too many of us relying on doc review for a living and not enough projects.
Doc review went downhill after the financial crisis of 2008.  Before that, in NYC, rates were around $40 and OT was the norm; also, we were provided with car service, and we received a meal allowance after billing so many hours.  There was a lot of work, and you could be selective in choosing a project.
Since the summer of 2008, rates have plummeted, OT is an aberration as is car service and free meals.  Corporate clients are mostly too savvy to pay high hourly rates for contract attorneys, and there is a lot of competition among agencies for projects resulting in agencies undercutting one another to get the project.
The result is that with a glut of contract attorneys and the fact that we are at the bottom of the totem pole, we are in competition for the crumbs: the forty hour short-term projects paying $30 flat with the occasional one allowing you to bill more than forty hours. Whether we get OT or not, the net financial result will be the same.
Would you rather work for $30 flat an hour or for $20 at time and a half?  And if our work is declared not to be the practice of law, why would law firms even hire attorneys?  Corporate clients would argue why are we paying high rates for attorneys to do non-attorney work.
I understand that well-meaning people are attempting to get us a better deal with this advocacy regarding OT, but it is short-sighted, and it would be a disaster for the business because it degrades what we do and ultimately it would put us out of business.
————————
Under the FLSA, every employee not on salary or fee basis is entitled to overtime pay, unless you qualify for an exemption. All UCA is asking is that temporary, hourly-wage lawyers be removed (exempted) from those exemptions and treated just like any other hourly employee. And since most document reviewers aren't paid a salary exceeding $50,400 (and none, to my knowledge, are paid on a fee basis), and don't meet the manager/supervisor tests, we would all then be entitled to overtime. We would all still be lawyers.
Every law in every state re: unauthorized practice of law would still be in force and unchanged by this DOL rule amendment. Our profession would not be "degrade[d]" in any way by this rule change. You know what would "degrade" our profession? A ruling in the Lola re-hearing at District Ct. that document review is not the practice of law in NC… So, really, every person who does document review – but most definitely the people who are concerned about the "degrad[ation]" of our profession – should be 1000% behind UCA's efforts here.
Go read the District Ct. opinion in Lola that led to the 2nd. Cir. appeal. Judge Sullivan said that Lola would have been entitled to overtime but for the professional exemption for lawyers, then added: "To the extent that this result is unwise or unfair, especially in light of the employment prospects that many licensed attorneys now face, Congress and the DOL remain free to revisit the regulation… ."
Right now his only outs are to: 1) rule Lola was practicing law by doing document review, and setting a precedent every employer can rely on to exclude us probably forever from getting even voluntarily-offered overtime, or; 2) rule that document review is not practicing law and that any paralegal in Mecklenburg Cty, can sign up for the next $12 doc review project.
If, however, the DOL rule is changed in the interim, the case either becomes moot, settles, or the District Ct.'s findings are reduced to a "Bush v. Gore"-type "applicable only in this particular set of facts" ruling that doesn't create binding precedent. Getting the overtime compensation we deserve will not "officially degrade our work".
When you work at a project where fire/occupancy code limits are consistently flouted, on Windows XP PC's in 2015, at a folding banquet table and a desk chair missing an arm rest, with a cup of ice behind a fan blowing on your face to get the temp below 80 at your desk, or wearing gloves and a wool hat indoors because you can see you breath it's so cold, and are required to, fired, not hired, and/or shut out of work if you don't or won't work overtime for straight pay…do you feel up- or accurately-graded because the DOL qualifies you as a "'bona fide' professional" exempt from overtime compensation?
When you get no paid time off at all for holidays, vacation, acts of God, database goes down, vendor forgot to load docs, no "babysitter" associate available to sit in the room so you can't work, partner won't answer emails, the agency staff wants to close for a holiday Mon. or at 3:00 on a holiday weekend Fri. to use their paid time off, while the only paid time off you probably have is via a "regulat[ory]…mandate" for sick time (and that's if you're lucky), and you are required to, fired, not hired, and/or shut out of work if you don't or won't work overtime for straight pay…do you feel up- or accurately-graded because the DOL qualifies you as a "'bona fide' professional" exempt from overtime compensation?
When you're hired for a project where the only available hours for work are 8:00-6:00 M-F and you're only paid for time clocked into the database (which is measured in 6-min. increments), and you're expected to log-off when you go to the restroom so the "metrics are right", or you're required to take a 18-min. break every time you work 5 or more hrs. and a 30-min. break every time you work 7 hours and fifty-four minutes (yes I typed that out to illustrate how ridiculous it is), and you are required to, fired, not hired, and/or shut out of work if you don't or won't work overtime for straight pay…do you feel up- or accurately-graded because the DOL qualifies you as a "'bona fide' professional" exempt from overtime compensation?
When you get no health insurance contribution at all, and can't pay for health insurance pre-tax unless you pay full-boat for the agency's platinum plan, the one the staffing agency staff gets for 25%, and you are required to, fired, not hired, and/or shut out of work if you don't or won't work overtime for straight pay…do you feel up- or accurately-graded because the DOL qualifies you as a "'bona fide' professional" exempt from overtime compensation?
Retirement? What retirement? You're a "'bona fide' professional" exempt from overtime compensation, you must already have a gold-plated retirement fund in the Caymans… I hate to break it to you, but if your practice of law (like mine) is document review, it is already "officially degrade[d]" from what DOL meant when they wrote the "'bona fide' professional exemption…in 1938.
————————
Working as a contract attorney is mind-numbingly tedious and a nightmare. Every few months I'm forced to look for another low-paying project. Going to law school was the worst mistake of my life.
————————
To clarify the purpose of the proposed carve out is to maintain that what we do is the practice of law, but not in its entirety, so that you get overtime wages while maintaining that you do practice law. This is analogous to highly compensated employees, white collar workers and other professionals who earn up to $100,000 are entitled to overtime pay if they pass the duties test that the work is routine, as I understand it.
I would submit that document review is routine, but still remains part of the practice of law. Hence the exception. Thanks for the cite. As I understand it, before the '96 or '04 (can't recall) professional exemption for lawyers, teachers, doctors, etc. they were all lumped under highly compensated employees/professionals/white collar employees subject to the higher salary threshold and duties test. But the professional exemption was carved out at a time when lawyers still practiced more or less the same – as per the occupational code description in the *ONE system which describes the totality of the practice of law and does not contain a category for document review attorneys.
This is outdated. At the time of the professional exemption, it was presumed we all had benefits, opportunities for advancement, and work that could not easily be transferred to other workers. With document review that changed and I am arguing that we should be excepted from the professional exemption on that basis, and instead considered more like white collar workers or computer workers who are highly compensated employees qualifying for overtime if their work is routine per the duties test. These are all regs. which supposedly interpret the legislation to adapt to changing times and conditions while keeping its original intent.
So yes, it is not exactly on point but it is a way to get their attention and consideration for future rule making, or maybe they will buy our argument.
————————
Really people? Your value and work are diminished when you don't advocate for better wages consistent with the care, attention to detail, and reasoning needed to correctly code or question a document.
Have you forgotten WHY you are reviewing these documents and for whom, or the detrimental ramifications of errors and producing privilege or other protected documents. Give yourself some credit and have a little confidence. Law firms and agencies are NOT doing you any favors, your work is necessary and deeply important- and as such- you deserve to be paid in keeping with the professional care and expertise YOU provide.
Have you forgotten the education and training necessary to call yourself an attorney/advocate? Take pride in both your profession and pay. You deserve better wages and additional compensation when asked to work longer hours, weekends or holidays. Better hourly wages and overtime pay is not rude, ungrateful, obnoxious, or unreasonable.
It should be the norm for fellow legal professionals- especially, if being paid less than $50 hourly.
Note, OT is the standard in countless other industries. Advocate for yourself. Resist bowing and scraping: $19, $25, $30, $32, $35/hr with (no OT) is a disgrace. However, for anyone that thinks their education, credentials, work and efforts warrant less compensation feel free to refund your agency for any overpayments. For everyone else, demand WAGE and OT. NOW.
————————
In response to the poster two posts above, anybody who has done doc review for a while knows that you generally have a horrible work environment; there is no debate that you are not treated like a professional. We don't need a list of degradations that we endure daily because we are all well aware of them, and it is misleading to compare those types of degradations to the degrading of our profession mentioned by numerous posters, which would occur if the FLSA created two classes of attorneys: doc reviewers exempt from the FLSA exemption and all other attorneys who would not be exempt.
As doc reviewers, we all have the same basic goal to make a decent living in this legal environment saturated with attorneys desperate enough to accept very low paying projects.
In my opinion, neither Lola declaring that doc review is not the practice of law nor the DOL creating two classes of attorneys will improve our working conditions or our compensation.
What ultimately decides our compensation is market forces, namely, supply and demand. When an agency can place an ad on craigslist and get a hundred attorneys at a moment's notice to scramble to get on a $25 short-term project in NYC to go work in a "pod," you know that the FLSA exemption is not the problem nor is it the solution.