From LegalTech NY 2010 (somewhat off-topic): the internet, traditional media and social media — and Google
Feb 9th, 2010 | By
mrposse
| Category:
Uncategorized
This post is one of several summarizing our coverage of LegalTech New York 2010.  For our other posts click here.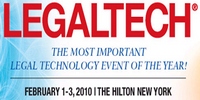 One of the side benefits to LegalTech is your immersion in a "let's get it done, here's the technology, here's how to do it" environment and attitude.  Well, that's just New York, I guess.  As a native son growing up in New York I lived that attitude everyday.  But the week at LegalTech (we had a series of follow-up interviews Thursday and Friday) was a welcome respite from America's increasingly dysfunctional governmental mechanisms and increasingly rancorous political culture.  Having lived in Europe these past 5 years I don't miss that 24/7 mindless media coverage.  Sometimes I think the problems the U.S. faces are intractable and beyond the capacities of our ramshackle political mechanisms.  But this visceral and nihilistic "us vs. them" mentality is deafening and infantile. 
Sorry, I digress. 
New York is an internationally influential media capital, and includes some of the most important newspapers, largest publishing houses, most prolific television studios, and biggest record companies in the world. It is a major global center for the television, music, newspaper, book and magazine publishing industries.  It is also the largest media market in North America (followed by Los Angeles, Chicago, and Toronto).  Some of the city's media conglomerates include Time Warner, the News Corporation, the Hearst Corporation, and Viacom. Seven of the world's top eight global advertising agency networks are headquartered in New York.  And three of the "Big Four" record labels are also based in the city, as well as in Los Angeles.  Plus, one-third of all American independent films are produced in New York. 
And it is the U.S. base for Thompson Reuters whose Chief Strategy Officer, David Craig,  was on Wednesday's keynote presentation "I3: The New Convergence of Intelligence, Intuition and Information" with Malcolm Gladwell and Dr. Lisa Sanders (see, I did have a LegalTech tie-in).  The three speakers recounted the myriad ways in which technology can be used to help supplement the innate decision-making capabilities of experts in their respective fields.  For our post on that presentation click here. 
The audience was filled with media folks and we had the opportunity to chat with several including some from Thompson Reuters.  We chatted about the internet, traditional media, social media — and Google.  All of these topics we have posted about on The Posse List and we have Tweeted about, especially social media vis-à-vis e-discovery issues, and its use as a propagation platform for information about the legal biz.  
We discussed the fact that the internet may kill newspapers but it is not clear if that matters. For society, what matters is that people should have access to news, not that it should be delivered through any particular medium; and, for the consumer, the faster it travels, the better.   But the trouble is nobody knows how to make money in this new environment.  So that raises questions about how much news will be gathered. 
So an interesting announcement came out on Monday regarding an agreement that had been reached by Associated Press and Yahoo regarding the licensing terms by which Yahoo will pay AP for the right to continue to post AP contents on the Yahoo site.  The terms of the arrangement were not revealed.  The full press release click here. 
According to those we interviewed, AP has yet to reach a parallel licensing agreement with either Microsoft or Google.  And it appears that Google has for the moment suspended posting new AP contents on its site. 
Neil Wilkof, a partner at Herzog, Fox, and Neeman who heads the intellectual property and information technology team, has analyzed this development and he makes the following points: 
Yahoo, rather than Google or Microsoft, has the largest Internet audience for news (as opposed to social networking or Internet search).
AP has provided content for Yahoo since 1998. That said, AP is the not the sole source of news contents for Yahoo, which also makes use of contents from Reuters as well as from Yahoo's own news staff.
The problem for AP is that a material portion of its revenues has come from the print media and broadcasting. AP has yet to find the financial structure that can compensate for the loss of revenue from these traditional sources of income in an age of the migration of news to various on-line platforms.
Hence, the importance of reaching financially satisfactory licensing arrangements with the leading on-line platforms for the distribution of AP-generated contents.  Short-hand:  finding ways to pump internet companies for more money.  That said, Yahoo is less financially robust than either Google or Microsoft.
While the details of the license were not made available, the report did mention that AP wants "greater cooperation" to ensure that its contents are not being used in an unauthorized manner and is contemplating a multi-tiered arrangement (at least in the future) whereby stories containing exclusive contents might charged more than news items, the contents of which are available from other sources as well.
Separately, Yahoo has reached agreement with U.S. newspapers that own AP in an arrangement to sell more advertising.
 And Then There is Google.  Quoting Neil:  "The AP report ends with an interesting juxtaposition. On the one hand, the report quotes a statement from Yahoo that the company "has always recognized the value and importance of original, authoritative news. We are pleased Yahoo and AP will continue that valued relationship" and then on the other hand the report concludes with the following comments about Google: (i) many publishers believe Google has profited unfairly from their newspapers by drawing upon snippets of their stories to draw traffic so it can sell more of its ads; (ii) AP and Google quarrelled for several years about the way that Google summarized AP news items; and (iii) Google believes that it in fact drives traffic to newspaper sites. Reaching agreement with Yahoo is one thing, reaching an arrangement with Google may be quite another." 
So we have companies like AP fighting a declining print media and a challenging online environment and trying to find a role for themselves in a Google-dominated world. 
We hope to have a longer interview with Neil in the coming weeks but in the meantime some links of note: 
Social media chiefs converge in Davos, finding big profits still elusive despite heavy use
"Social Networking: Learn the Rules of Engagement" (from ILTA)
A World of Connections  (special report on social media from The Economist)